Why reserve your room in the official JADPRO Live housing block?
Discounted room rates
Closest proximity to the Washington State Convention Center
You'll be surrounded by your colleagues, which makes for the best networking opportunities
Automatic entry into a drawing to win a suite upgrade, ticket to a complimentary pre-conference workshop, or ticket to a pre-conference sightseeing tour
Booking within the official conference housing block allows us to be able to continue providing discounted hotel rates, and it also keeps conference registration rates down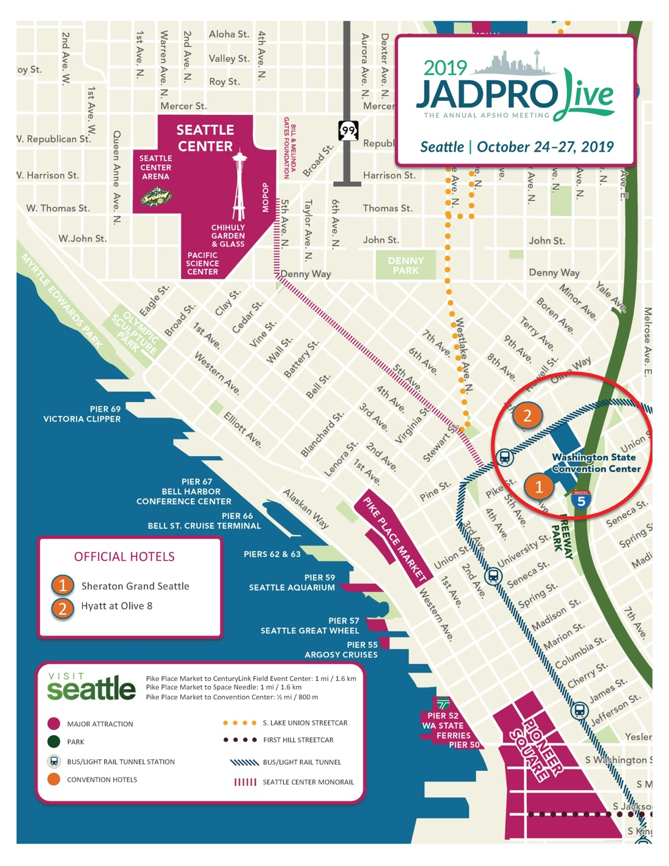 Hotel
Room Rate* (per night)
Address
Distance to Convention Center
Hotel Benefits
Sheraton Grand Seattle – Headquarters Hotel
$235.00 for Single/Double
1400 6th Ave Seattle, WA 98101
1-minute walk

Complimentary in-room Wi-Fi access
Complimentary 24 hour fitness center
Indoor swimming pool
2 restaurants, 3 bars, full-service Starbucks

Hyatt at Olive 8
$245.00 for Single/Double
1635 8th Ave Seattle, WA 98101
3-minute walk

Complimentary in-room Wi-Fi access
Complimentary 24-hour fitness center
Indoor swimming pool
2 restaurants and bars, spa and sauna
New this year: Book in the JADPRO Live housing block and you could win one of these great prizes!
One Suite upgrade at the Sheraton Grand Seattle and/or Hyatt At Olive 8*
One ticket to a complimentary certified pre-conference workshop of your choice
A complimentary ticket to one of our pre-conference tours
Two winners will be drawn for each prize. Conference registration must be paid in full to be eligible for drawing. *Complimentary suite upgrade will be at the conference room rate. Suite upgrade is available between Tuesday, October 22, to Sunday, October 27, only.
Official JADPRO Live Housing Provider
JADPRO Live is pleased to partner with Orchid Events as our official housing provider to coordinate hotel reservations for the conference. As a conference registrant or exhibitor, you may be contacted by "housing pirates" pretending to be staff from JADPRO, APSHO, or Orchid Events.
Don't be fooled by offers from other parties using the APSHO or JADPRO Live name: they are NOT affiliated with APSHO or the JADPRO Live conference. Reservations made by unaffiliated organizations may appear to be for lower rates; however, they may be illegitimate, have unreasonable cancellation or change penalties, or be completely non-refundable. Please be aware of and report any unauthorized solicitation to ctrachtenbroit@hbside.com right away.
If you have any questions about making your room reservations, please contact Orchid Events directly at 855-285-4791.
To Make Your Hotel Reservation
Step 1: Register for JADPRO Live 2019. Housing and conference registration will open for APSHO members on April 8 and non-members may register and reserve rooms starting on April 23. To reserve your hotel room, you must first register for the conference.
Step 2: For any questions regarding your hotel reservation or to make a reservation over the phone, please contact Orchid Events directly at 855-285-4791. Please have your registration confirmation ID ready (found at the top of your registration confirmation email) if you're calling to make a hotel reservation.
Acknowledgments
Orchid Events will send reservation acknowledgements within 24 hours via email if booked online or by telephone. If you do not receive your acknowledgement in this time frame, contact Orchid Events. You will not receive a written confirmation from the hotel.
Questions or Special Requests?
For questions or special requests, please contact Orchid Events. Special requests are not guaranteed. The hotel will assign specific room types upon check-in, based on availability.
Orchid Events:
Toll-free (US): 855-285-4791
International: +1 801-433-0664
Agents available 7:00 am to 6:00 pm MST, Monday through Friday
Parking Information
Sheraton Grand Seattle parking rates and information